We've really ramped up the Christmas festivities this past week. I feel like it's a dry-run for when Grandma gets here. But by dry-run I definitely don't mean alcohol free; that would be total insanity. Partaking in the Glühwein is as much a part of Christmas as snow and Santa Claus.
But then again, if you'll recall, Santa isn't a thing here, but rather the creepy Samichlaus and his dark side-kick Schmutzli. Together on December 6th they come down out of the woods to terrorize children and scare them into good behaviour. Somewhat similar idea just without the reputation of being a "ripe jolly old elf".
This year on the 6th we opted to visit one of the most spectacular Christmas markets in all of Switzerland. The kids' half-day on Wednesday made it perfect to hop on a train and head up into the mountains to the town of Einseideln.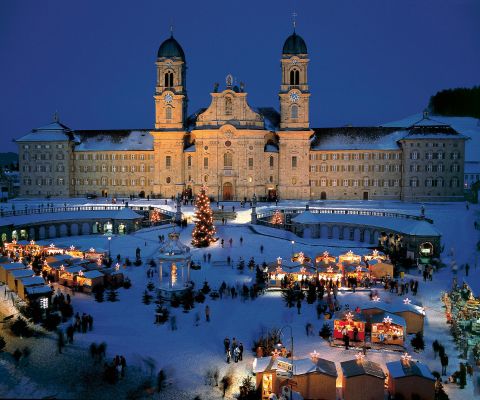 I did manage to take some of my own shots of the day as the whole setting really is breathtaking. Especially considering that now that we're in the winter season there is a noticeable lack of sun & blue sky here. Especially compared to Alberta. I honestly can't remember that last time I wore sun glasses – a necessity in an Alberta winter!
So we chose our day partly because of the kids' schedule but also because of the weather. The forecast was for sun and clear skies. We got on the train in Winterthur in grey/green glum and began the steady climb up into the mountains. The ride was to be just over an hour. 98% of the ride was grey, glum but as promised by the forecast, just before arriving at our destination we popped up out of the clouds and into spectacular sun and blue, surrounded by fresh white snow. It was amazing! And cold. But amazing nonetheless.

​What is more Swiss than a handbell performance with cowbells?
​One could get a lot of their Christmas shopping done at these markets if you're into the kitchy, slightly creepy, over-the-top decor. Lucky for Grandma and the "nothing breakable" rule, she was saved from some atrocious delights the kids were super excited to buy her. You're welcome Ma. Having adult children should at least mean that you can anticipate non-god-awful Christmas gifts.

To that end we made a trip to Zürich this weekend to secure some goodies for Grandma. It was in full mega-metropolis swing with hordes of shoppers and merriment galore.
Here's a Christmas tip – priming with Glühwein makes dealing with the hordes of shoppers really quite easy. Makes you a wee bit more spendy than you'd otherwise be but nonplussed by the pushing and shoving.

Thankfully some sun and blue did find us in Winterthur this weekend so we ventured into our forest to enjoy it, knowing the nice forecast would be short lived.

Otherwise, the chilly forecast makes for some great indoor time. In our new apartment this is an entirely delightful situation. No hostile or nosy neighbours, heaps of natural light and multiple windows from which to watch the city & forest become blanketed in snow. There's even a tall building downtown (the tall building to be specific) that lights up its windows like Christmas trees this month. It delights me to no end.
​​
Our local Christmas market in the fresh snow.

But the best part of our new apartment is the consistent shared baking between us and the two other families.
A baked-good delight could arrive at our door at any moment. Diego and Helena love to deliver the goods we create. It's the epitome of being neighbourly and exactly what this time of year should be all about.